Investing has consumed my life since college.
While double majoring in finance and economics at the University of North Carolina at Greensboro, I founded the university's economics club, joined the finance club and participated in the Chartered Financial Analyst research competition to represent our school.
After graduating, my passion for investing landed me an internship at a prestigious local financial firm where my mentor introduced me to a unique options strategy. And in 2012, I was hired by Banyan Hill as an investment research analyst.
In 2016, my options-based trading service Pure Income was named the top-performing advisory for our company. Pure Income uses the exact same options strategy that I learned from my mentor and now I share with my loyal subscribers.
I also run two additional advisory services — Quick Hit Profits and Fast Lane Profits — at Banyan Hill, where I help everyday people safely and reliably grow their wealth by generating steady monthly income.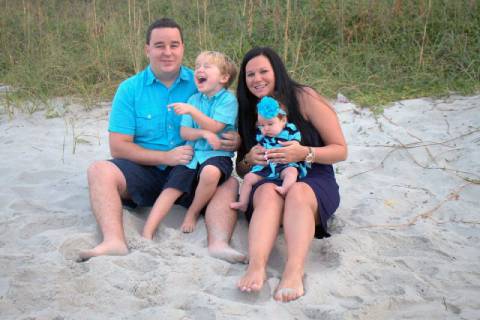 Of all my life experiences and the people who influenced me — my parents, brothers, friends, teachers and bosses — the day of my son's birth is the one that drove me to succeed.
From that moment, I strove to have a job that I was passionate about. I didn't want to come home every day complaining, or to be angry when I left my family each day to go to work.
It was at that moment in 2009 that I decided I was going to do something for the rest of my life that I enjoyed.
I knew too many people who chose to chase money and ended up miserable. Maybe you know a few, too.
The only topic I liked in school was finance. I followed the markets and had watched CNBC even in high school.
I knew the path I was on — and that took me directly to investing.
For me, the markets are an adrenaline rush, and they're extremely rewarding.
It's officially time to throw fundamental analysis out the window.Looking for undervalued companies in a market like this, is like looking for hay in a stack of needles.Practically EVERY stock out there is undervalued on some metric.And with the S&P 500 down 20%,...
read more
Chad Shoop has developed an incredible new strategy that takes the guesswork out of knowing if, and when, sudden stock moves are going to take place after an earnings report. In fact, you can use this market-beating technique to turn every $1,000 into $2,000 … or $10,000 into $20,000 … every 12 weeks.
Using his proprietary setup of the Relative Rotation Graph, Chad finds ways to bring opportunities to profit each and every single week through this strategy. This service is designed to pad your portfolio throughout the year — with an average hold time of just 5 days … and an average gain of 24.5% on each trade.
Sign Up for True Options Masters
If you want to find the daily edge using options, sign up for True Options Masters. It's a free options-trading e-letter that Chad and his mentor and fellow options expert Mike Carr team up on to help you spot exciting short-term trading opportunities that many investors often overlook.